UK Wight Shipyard Delivers New Ferry
Views: 54 Author: UC Marine China Publish Time: 08-03-2019 Origin: www.ucmarine.com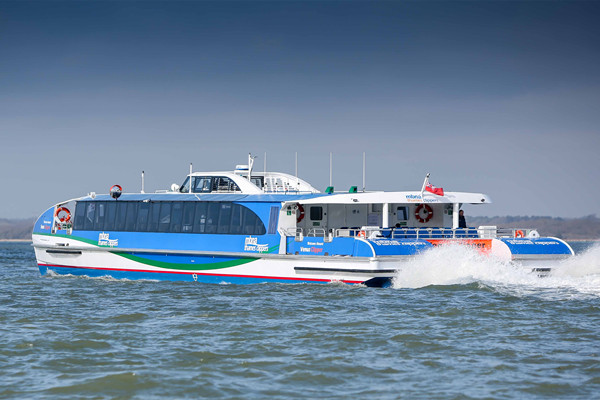 UK Wight Shipyard Delivers New Ferry
UK shipbuilder Wight Shipyard has completed its third and largest vessel for MBNA Thames Clippers, the 38-metre catamaran ferry Venus Clipper.
The first Hunt Class Mk3 has been built to a ten-month build schedule and is reflective of the increased business the yard has previously predicted in the fast ferry sector, said a release.
Peter Morton, CEO, Wight Shipyard, said: "One of the most important elements that strengthens this sector is that it is cushioned against the effects of the 2020 low sulphur cap and is actually in a better position than the conventional ferry market."
"This is because it does not have to worry about finding the increased capex to fit scrubbers or face a huge surge in costs by changing to low sulphur fuel, as fast ferries already run on low sulphur fuel. When fuel costs go up for conventional ferries for low sulphur fuel post 2020, fast ferries will be in a much more competitive position," Peter added.
MBNA Thames Clippers had some very particular requirements for its latest newbuild. Importantly, the new Clipper had to be able to transport of passengers between numerous floating piers at a speed not less than 25 knots at full load draft.
The vessel's catamaran hullform uses twin symmetric hulls and has been designed by Australia's One2three Naval Architects. Its hull structure is designed for frequent and repeated berthing at London's floating piers with particular attention paid to potential contact with obstructions in the water and harsh weather conditions. UC Marine China can supply classification society certified marine equipment for New Ferry.
Venus Clipper is classed by Class Lloyds Register / DNVGL and obtains the notation DNVGL +1A1 HSLC Passenger R4 HSC (A) EO meeting the delegated survey requirements for capacity and seating for a minimum of 220 passengers, with space for two wheelchairs.
Wight Shipyard completed its first two vessels for MBNA Thames Clippers back in August 2017, the 35 metre low wash catamarans Mercury Clipper and Jupiter Clipper. At the time the builds were announced in October 2016, it was the largest fast passenger ferry order for a UK shipyard in over 25 years.
Sean Collins, Managing Director, MBNA Thames Clippers said; "MBNA Thames Clippers are very pleased to receive our third build by Wight Shipyard Co, bringing our total fleet to 19 vessels. Venus Clipper was delivered on time and on budget to full specification and with an exceptional standard of British workmanship. It was especially gratifying that there was continuity with the personnel involved in our previous 2 builds, that enabled the main construction stage to be delivered with a seamless process. The end result came in under its designed weight, which contributes to Venus Clipper being our most efficient vessel to date."