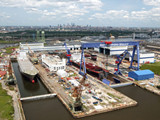 US Philly Shipyard in Talks on Jones Act Boxships
US-based Philly Shipyard, Inc. (PSI) is in advanced talks with a Jones Act operator to establish a new shipping service in the Hawaii containership trade with up to four new vessels.
The containership trade between the US mainland and Hawaii is currently serviced by only two carriers and is reliant in part on a group of near end-of-life steamships.
Under the talks with the undisclosed US shipping operator, PSI said it aims to establish a new, financially strong carrier with a fleet of modern vessels to support commerce between the US West Coast and Hawaii.
The shipyard said that it has initiated the construction of the new cost-effective and environmentally friendly containerships with deliveries in 2020 and 2021.
Additionally, indicative terms have been issued by a maritime leasing company for a bareboat charter structure to finance the purchase of these vessels.
"We are excited to get started on building a new fleet of containerships for a new carrier in the Hawaii trade," Steinar Nerbovik, Philly Shipyard's President & CEO, said.
When strict MARPOL/ECA emissions regulations take effect in 2020, several of the older steam powered vessels serving the Hawaii trade route today will be out of compliance without substantial, costly modifications. Even if these aging steamships are modified, they would be less reliable and carry significantly higher operating costs than modern vessels in areas such as fuel consumption and manning and maintenance requirements, according to the shipyard.
PSI believes these circumstances create an opportunity for a new Jones Act carrier to enter the Hawaii containership trade with a fleet of cost-efficient and eco-friendly container vessels built by PSI.
These containerships will be the direct continuation of the series of two similar 3,600 TEU Aloha class containerships with expected deliveries in 2018 and 2019 that PSI is presently constructing for the Hawaii trade.
UC Marin China can supply the following equipment for containership:
Marine Life Saving Equipment: Self-Righting Inflatable Life Raft, Open-Reversible Inflatable Life Raft, Davit-launched Self-righting Inflatable Liferaft, Totally Enclosed Lifeboat and Rescue Boat,FRP Open Type Lifeboat, Marine Life Jacket RSCY-A4, Marine Children Life Jacket, PVC Foam Working Life Jacket, SOLAS Approved Immersion Suit, Survival Suit, Marine Evacuation System, SOLAS Approved Life Buoy, General Type Lifebuoy Light.
Pollution-Prevention Equipment: OCM-15 type 15ppm Bilge Alarm, BilgMon 488 type 15ppm Bilge Alarm, 15ppm Bilge Alarm for Oil Water Separator, Reverse Osmosis Fresh Water Generator, Plate Type Fresh Water Generator, Fuel Oil Sampling Device, Drip Type Bunker Sampler Flange, DNVPS Line Sampler, Oil Only Sorbent Pads, Oil Only Absorbent Pillows, Oil-Only White Sorbent Rolls, Oil Only Polypropylene Absorbent Socks, Chemical Spill Absorbent Pads, Hazmat Chemical Sorbent Rolls, Hazmat Sorbent Polypropylene Socks, Yellow Hazmat Sorbent Pillows, Gray Universal Absorbent Pads, Universal Sorbent Rolls, Gray Polypropylene Sorbent Socks, Gray Universal Absorbent Pillows.
Marine Kitchen Equipment: Marine Large Electromagnetic Cooker, Marine Stainless Steel Electric Rice Steamer, Marine Stainless Steel Electric Griddle, Marine Cooking Range with Oven, Marine Electric Tilting Bratt Pan, Marine Microwave Oven, Marine Dumpling Machine, Marine Steamed Bread Machine, Marine Electric Meat Grinder, Marine Electric Water Boiler, Shipboard Flake-ice Machines, Seawater Flake Ice Machine, Marine Rubbish Press Baling Machine, Marine Life Rubbish Baler Machine.