US to Get 1st Jones Act Compliant Offshore Wind Jack-Up Vessel
Views: 10 Author: UC Marine Equipment Co., Ltd Publish Time: 29-06-2017 Origin: www.ucmarine.com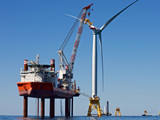 US to Get 1st Jones Act Compliant Offshore Wind Jack-Up Vessel
Zentech and Renewables Resources International (RRI) revealed plans to build the first Jones Act compliant, four-legged, self-propelled dynamically positioned level 2 (DP2) jack-up vessel based on a US-built barge.
Zentech plans to install four truss legs with spud cans integrated into a newly built hull.
As informed, this vessel is expected provide the now evolving US offshore wind industry with "a much needed and cost competitive" marine logistic solution, converting a Jones Act compliant asset aligned with the conclusions from the European offshore wind learning curve.
The ship will also act as an oil & gas crane jack-up for decommissioning in 300-ft water depths when not in service for installing and/or maintaining wind turbines.
The Jones Act vessel is designed to navigate the New Bedford Hurricane Barrier and will carry and install in this configuration components for at least three complete 6-9 megawatt (MW) range wind turbines. The vessel's jacking system will be rated at a capacity of 16,000 tons, extending the unit's service life.
Up to four 8MW range, fully assembled wind turbines can be installed using a patented cantilever package. The installation mechanism will be able to align the fully assembled wind turbines to the smallest degree of required accuracy. Using its innovative concept, the vessel will have the mechanism to enhance its stability to carry fully assembled wind turbines for anticipated 10MW or higher capacity wind turbines.
"With larger-scale offshore wind projects following Block Island, the US market requires forward-looking marine logistics, such as Zentech's competitive, Jones Act compliant jack-up installation vessel. US made, domestically accessible and designed in concert with the advanced European offshore wind industry, this vessel conversion is another example of the important role the US oil & gas industry will play in accelerating the US offshore wind industry," Andy Geissbuehler, Managing Partner of Renewable Resources International, commented.
Discussions with US shipyards in the Gulf and along the East Coast predict delivery no later than 4th quarter, 2018. The unit will be constructed utilizing US-built components such as barge, legs, spud cans and propulsion.
In addition to enabling a competitive solution addressing the offshore wind industry's Jones Act challenge, this US built vessel is expected to contribute to the revival of the nation's shipbuilding industry and port infrastructure.
News content and pictures from:worldmaritimenews.com