USCG's Polar Icebreaker Program Prepares for EIS
Views: 10 Author: UC Marine Equipment Co., Ltd Publish Time: 26-04-2018 Origin: www.ucmarine.com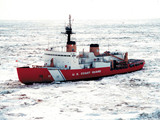 USCG's Polar Icebreaker Program Prepares for EIS
Notice of intent to prepare an Environmental Impact Statement (EIS); notice of public meeting; and request for comments posted in Federal Register.
The U.S. Coast Guard said it is working to prepare an environmental impact statement (EIS) in accordance with the National Environmental Policy Act (NEPA) for the Polar Icebreaker Program's design and build of up to six new polar icebreakers.
To prepare for the EIS, the Coast Guard has begun the scoping process to solicit public comments regarding a range of issues, including potential environmental impacts and alternatives that should be addressed in the EIS. The Coast Guard will also hold public meetings in Anchorage, Utqiag˙vik (Barrow), Nome and Kotzebue in May 2018 to discuss potential issues, concerns and reasonable alternatives that should be considered.
Comments and related material must be received by the Coast Guard by June 25, 2018.
Following the scoping meetings and comment period, a Draft EIS will be prepared and ultimately circulated for public comment.
If you are interested in marine anchor windlass, marine winch, mooring chock, marine bollard, marine anchor and anchor chain, please contact UC Marine China for more details.