Uljanik Cleared to Start Building Algoma's Bulker Trio
Views: 7 Author: UC Marine China Publish Time: 27-11-2015 Origin: www.ucmarine.com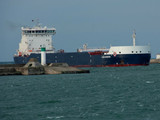 Uljanik Cleared to Start Building Algoma's Bulker Trio
Croatian shipbuilder has started the preliminary construction work on Algoma Central Corporation's (Algoma) three, 740 foot Seaway Max self-unloading bulk freighters, as the shipyard has been officially cleared to implement the project.
"Under the terms of the conditional contracts announced by Algoma on September 10, 2015, Uljanik d.d. was required to delivery security for the contractually required construction instalments that is acceptable to Algoma. This security was delivered by the yard and approved by Algoma on November 24, 2015," Algoma said in a release.
"The design work and preliminary construction of the vessels has already begun," said Ken Bloch Soerensen, President and CEO of Algoma.
"We now have a total of five ships under construction at the Uljanik Group's 3Maj shipyard in Rijeka, Croatia and we look forward to working closely with Uljanik on the construction of these vessels," Soerensen continued.
These new Equinox Class ships will feature a boom-forward configuration designed to provide greater flexibility in certain delivery situations. The vessels will have an overall length of 225.55 metres and a beam of 23.77 metres, qualifying as Seaway Max size ships. The vessels will carry 29,300 tonnes at maximum Seaway draft.
The first vessel is scheduled for delivery in early 2018 with the balance of the ships delivered by the end of that year.
Algoma reported third quarter revenues of $133,831 compared to $163,950 for the same period in 2014. The decrease in revenue was mainly in the domestic dry-bulk and product tankers segments reflecting the impact of lower fuel prices and reduced customer shipments.
Revenues for the nine months ended September 30, 2015 of $318,268 were $35,753 or 10% lower than the revenues for the same period in the prior year.
News content and pictures from:worldmaritimenews.com