Vard Lays Keel for Hapag-Lloyd Cruises' New Expedition Ship
Views: 7 Author: UC Marine Equipment Co., Ltd Publish Time: 22-06-2017 Origin: www.ucmarine.com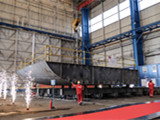 Vard Lays Keel for Hapag-Lloyd Cruises' New Expedition Ship
Vard laid the keel for Hanseatic Nature, the first of Hapag-Lloyd Cruises' two new expedition ships, at its yard in Tulcea, Romania on 20 June 2017. Hanseatic Nature's keel consists of two 33-ton steel blocks, each one 9 metres long, 11 metres wide and 1.5 metres high. During the ceremony, Hapag-Lloyd Cruises' CEO Karl J. Pojer placed a commemorative stone inside the steel block to bring luck to the new vessel.
"It is a great pleasure to watch the development of our first expedition newbuild," said Pojer. "In the shipyard, as well as in the Hamburg office, many experts in their specialist fields are working daily on completing the two vessels. With our new expedition vessels, we will soon be able to offer very unique travel experience."
Once the hulls have been constructed, the vessels will be towed from Vard's Tulcea shipyard to its facility in Langsten, Norway for interior outfitting. Hanseatic Nature will launch in April 2019, while Hanseatic Inspiration will debut six months later in October 2019.
Identical in size and design, both newbuilds will be built to Polar Ice Class 6 and will each accommodate up to 230 passengers, or up to 199 passengers on Antarctic expeditions.
Both newbuilds will be equipped with SCR catalytic converters to reduce nitrogen oxide emissions by almost 95%, and Promas rudders with a special propeller to help reduce fuel consumption and emissions. The ships' hulls have been designed to achieve the maximum reduction in fuel consumption for the propulsion system and cut overall bunker consumption. Infra-red ice detectors will enable crew to spot ice at night and in misty conditions.
Onboard, each ship will have three restaurants, an extensive wellness and fitness area, two extendable glass balconies and a marina for watersports. This will include 16 onboard Zodiacs and E-Zodiacs with eco-friendly electric drive systems, which will be used for remote expeditions.
News content and pictures from:cruiseandferry.net