Wärtsilä Propulsion Solutions Continue to Be the Choice for Fishing Vessels
Views: 3 Author: UC Marine Equipment Co., Ltd Publish Time: 16-11-2017 Origin: www.ucmarine.com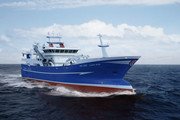 Wärtsilä Propulsion Solutions Continue to Be the Choice for Fishing Vessels
The technology group Wärtsilä continues its success in providing highly efficient, fully integrated propulsion solutions for fishing vessels with yet another valuable order. Lunar Fishing Company Ltd, based in Scotland, is replacing its existing 'Lunar Bow' purse seiner trawler with a new ship having the same name. The primary considerations were to achieve both economic and environmental benefits through selecting the market's most efficient propulsion machinery. The vessel is being built at the Karstensens Skibsvaerft shipyard in Denmark and the order with Wärtsilä was booked in October 2017.
The main engine chosen is the Wärtsilä 31, listed by Guinness World Records as being the world's most efficient 4-stroke diesel engine. Its outstanding fuel efficiency results in the corresponding benefit of producing fewer exhaust emissions, thereby meeting the industry's need for lower operational costs and better environmental performance.
Wärtsilä will also supply a controlled pitch propeller (CPP) and a 2-speed gearbox. The two gear ratio settings facilitate a reduced propeller speed at an optimal and constant engine speed, which also contributes to achieving lower fuel consumption and reduced emission levels. Furthermore, at low propeller rpm the hydro-acoustic noise is minimised; an important consideration for the vessel's fishing capabilities.
Controlling the entire propulsion operation will be Wärtsilä's award winning ProTouch system, a comprehensive arrangement of levers, touch-screen interfaces, displays, indicators, and modules that ensures optimal visibility for the operator. This promotes added safety, both at sea and in port.
"We have worked closely with both the owner and the yard for many years, and we are honoured that Wärtsilä has once again been selected for this latest project. We are especially pleased that the new 'Lunar Bow' will feature the complete propulsion system from Wärtsilä, including the main engine, CPP, gearbox and ProTouch control system. This is the third fishing vessel with a Wärtsilä 31 main engine that we have on order at the Karstensen yard," says Stefan Wiik, Vice President, Engines, Wärtsilä Marine Solutions.
"So many vessels in our fleet are fitted with Wärtsilä engines and other products that we really had no hesitation in opting for Wärtsilä again. This will be the first, however, with the Wärtsilä 31 main engine and we are excited at the operational benefits it offers," says Alex Buchan, vessel owner of Lunar Fishing Company.
The Wärtsilä equipment is scheduled to be delivered to the yard in early 2019 and the vessel is expected to begin fishing operations in the North Sea later that year.
Reference: wartsila.com