What is Immersion Suit
Views: 3 Author: UC Marine China Publish Time: 18-04-2018 Origin: www.ucmarine.com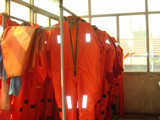 What is Immersion suit
An immersion suit is a body covering suit that is worn specifically for the purpose of remaining afloat and surviving during emergencies in high seas. This suit is therefore also known as a survival suit or a rescue suit. In today's times, an immersion suit is one of the most important necessities on ships and oil rigs, considering the protection needed from the hazards of water.
Immersion suits are generally made of neoprene, a type of rubber that is completely waterproof and has an ability to withstand extreme temperatures of water and fire. The immersion suit fits the person's body without exposing any part to the water. It also has a protective hood to cover the head and comes along with protective gloves.
UC MARINE immersion suits are fully approved to the current SOLAS MED regulations. They are made from 5mm fire retardant neoprene to provide good insulation and resistance to oil, sunlight and seawater. Quick and easy to put on, each is supplied in its own carry bag with donning instructions included.
A rescue suit is designed mainly in two colors – red and orange. Both the colors are kept bright (fluorescent) so that the suits can attract the attention of paramedics or rescue aid immediately.
If you are interested in immersion suit,immersion suit test kits, please contact us for more details.