Wijnne Barends Orders Six Ships in India
Views: 14 Author: UC Marine China Publish Time: 29-03-2017 Origin: www.ucmarine.com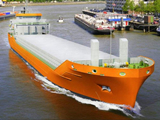 Wijnne Barends Orders Six Ships in India
Dutch shipping company Wijnne Barends, a part of the Spliethoff Group, has placed an order for the construction of six energy-efficient vessels at the Indian shipyard Chowgule & Company.
Featuring 4,200 deadweight tons, the vessels will have a length of 98 metres and "are designed to meet the increased environmental requirements that apply to newly built vessels," according to the company.
The vessels will have a cargo hold of more than 6,000 m³ and are set to meet the highest Swedish/Finnish ice class.
The first ship from the batch is scheduled to join its owner in the last quarter of 2018, while the remaining vessels will be added to the existing Lady-H series in intervals of four months.
With the Tier III standards, which were put into effect for all newly built vessels on American waters in January 2016, the shipping firm aims to reduce nitrogen dioxide emissions. In 2021, these standards are also scheduled to apply in the North – and Baltic seas, the main area of the company's operation.
The short sea shipping firm currently operates a fleet of 38 small dry cargo vessels which have a total size of 141,000 dwt, according to data provided by VesselsValue.
News content and pictures from:worldmaritimenews.com