Wilson Sons Delivers Tug to SAAM SMIT in Brazil
Views: 15 Author: UC Marine China Publish Time: 28-08-2018 Origin: www.ucmarine.com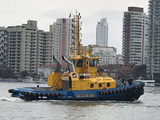 Wilson Sons Delivers Tug to SAAM SMIT in Brazil
Wilson Sons Estaleiros has delivered the third Damen designed ASD Tug 2411 to SAAM SMIT Towage in Brazil. The vessel is part of a four-vessel order, the final unit of which the shipyard is on track to deliver according to schedule in November this year.
Damen has partnered with Wilson Sons for over 20 years. Under the arrangement of the relationship, Wilson Sons builds vessels using a Damen design, engineering and materials package. The delivery later this year of the final vessel of the SAAM SMIT order will mark the 91st Damen-designed vessel built by Wilson Sons. The shipyard is also currently building two Damen-designed ASD Tugs 3212 for its own towage company , Wilson Sons Rebocadores.
The ASD Tugs 2411 that Wilson Sons have delivered to SAAM SMIT are 24 meters in length, with a beam of 11 meters and offer a bollard pull of 70 metric tons. Damen has designed the vessel with high maneuverability and excellent seakeeping behavior in mind.
This contract – and others like it – provide a way for companies in Brazil to access a wide range of proven maritime solutions, says Damen Sales Manager Robin Segaar.
Wilson Sons is also a partner in the consortium formed by Damen and SAAB that is participating in the tender for the construction of four corvettes (Project Tamandare) for the Brazilian Navy. In this way, the consortium reaps the benefits of the long-standing relationship between the two companies. Having worked together for so long on so many projects, Damen and Wilson Sons already have in place fast, smooth working processes and close communications.