Work Starts on Volkswagen's First LNG-Powered PCTC
Views: 16 Author: UC Marine Equipment Co., Ltd Publish Time: 23-03-2018 Origin: www.ucmarine.com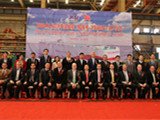 Work Starts on Volkswagen's First LNG-Powered PCTC
China's Xiamen Shipbuilding has started building the first of two 7,500 CEU LNG pure car truck carrier (PCTC) vessels ordered by Siem Car Carriers.
The steel cutting ceremony was held in Xiamen on March 10, 2018.
From 2019, the ships powered by liquefied natural gas are to be operated by Siem Car Carriers and chartered to Volkswagen Group Logistics. Once completed, they will carry Volkswagen's vehicles from Europe to North America, with LNG drive systems reducing the atmospheric pollutants emitted by the ships.
"Greater sustainability in logistics is a key issue for us. The use of two LNG ships for transporting vehicles is a major step forward which we can only take together with our strong partners," Markus Lange, Head of Vehicle Logistics of Volkswagen Group Logistics, said at the steel-cutting ceremony.
The 60,000 gross ton newbuilds will feature a length of 199.9 meters and a width of 38 meters.
Compared with conventional vessels, the LNG ships will reduce CO2 emissions by up to 25 percent, NOX by up to 30 percent, particulates by up to 60 percent and sulfur oxides by as much as 100 percent, according to Volkswagen.