World's 1st Converted FLNG Vessel Named
Views: 12 Author: UC Marine Equipment Co., Ltd Publish Time: 03-07-2017 Origin: www.ucmarine.com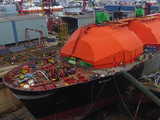 World's 1st Converted FLNG Vessel Named
Keppel Shipyard, Keppel Offshore & Marine's (Keppel O&M) wholly-owned subsidiary, hosted a naming ceremony on July 2 for the world's first converted Floating Liquefaction Vessel (FLNGV) owned by Golar Hilli Corporation (Golar), a subsidiary of Golar LNG.
The vessel was named Hilli Episeyo and is about to be delivered to its owner following three years of conversion work at Keppel.
"By combining our expertise from a variety of complex offshore conversion projects and our capabilities in executing LNG-related EPC (engineering, procurement, construction) projects, we are able to offer innovative and reliable floating liquefaction solutions to meet the growing midstream needs of the LNG industry," Chris Ong, CEO of Keppel O&M said.
"Compared to newbuilds, converted FLNGVs are significantly more cost-effective and faster to market, without compromising safety and processing capabilities. With the experience gained from this first FLNGV conversion project, we are in a unique position to provide customers with reliable end-to-end solutions for the EPC and commissioning of FLNGV as well as FSRU (Floating Storage and Regasification Unit) conversions."
Hilli Episeyo was converted from a 1975-built Moss LNG carrier with a storage capacity of 125,000 m3. Sponsons were added on both sides of the hull to house the topside equipment comprising of pre-treatment systems, four PRICO® single mixed refrigerant liquefaction trains, boil-off gas compression and offloading equipment. The Hilli Episeyo is designed for a liquefaction capacity of about 2.4 million tonnes of LNG per annum.
"Being at its final leg towards completion, Hilli Episeyo represents a game changer in the LNG industry with its fast track, low cost project execution. The development of this FLNGV positions us as forerunners in providing offshore liquefaction solutions to meet the growing demand for liquefied natural gas," Oscar Spieler, CEO of Golar LNG said.
With the global push towards cleaner energy, demand for natural gas is expected to increase significantly. FLNGV solutions enable operators to overcome the geographic, technical and economic limitations of developing natural gas resources located in marginal fields while FSRUs help reach consumers in remote areas.
Upon its completion, the FLNGV will be put in operation offshore Kribi, Cameroon for Société Nationale des Hydrocarbures and Perenco Cameroon SA, and will be the first FLNGV project in Africa.
News content and pictures from:worldmaritimenews.com