World's Largest Diamond Ship Enters Operation
Views: 7 Author: UC Marine Equipment Co., Ltd Publish Time: 20-06-2017 Origin: www.ucmarine.com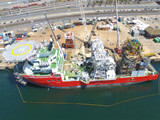 World's Largest Diamond Ship Enters Operation
The world's largest and most advanced diamond exploration and sampling vessel, the SS Nujoma, is ready to start exploring for diamond deposits in Namibian waters, following its official inauguration on Thursday.
The $157 million vessel was put into operation by Debmarine Namibia, a 50/50 joint venture between the Government of the Republic of Namibia and De Beers Group.
Debmarine Namibia is the only company in the world to mine diamonds offshore, having started in 2002. The company produced around 1.2 million carats in 2016.
Mining of Namibia's diamonds – some of the most valuable in the world – takes place at around 130 meters (430 feet) below sea level.
The SS Nujoma is the first in the company's fleet of five other vessels to be dedicated to exploration and sampling. It incorporates a range of unique technologies that allow it to sample faster, take larger samples and collect more information per sample than any other diamond sampling vessel. It is capable of sampling at more than double the speed of its predecessor.
The 12,000 ton, diesel-electric powered vessel is 113 meters long. It can accommodate a crew of 80 and has a helicopter deck suitable for Sikorsky S61s. She was built by Kleven in Ulsteinvik, Norway, and fitted with its subsea sampling system, designed by De Beers Group, in Cape Town, South Africa.
Diamond mining is the single biggest contributor to Namibia's economy. The partnership between De Beers Group and the Namibian Government delivers more than N$10 billion in revenue annually.
Globally, demand for diamond jewelry in 2016 increased marginally in U.S. dollars to $80 billion, with demand growth from the U.S. offsetting a contraction in India. U.S. consumers now account for roughly half of all diamond jewelry purchases globally. Further marginal global growth in diamond jewelry demand is likely in 2017.
News content and pictures from:maritime-executive.com