Yangzijiang Shipbuilding's Orderbook Hits USD 133 Mn in Q2
Views: 7 Author: UC Marine Equipment Co., Ltd Publish Time: 04-07-2017 Origin: www.ucmarine.com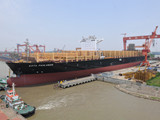 Yangzijiang Shipbuilding's Orderbook Hits USD 133 Mn in Q2
Singapore-listed Yangzijiang Shipbuilding (Holdings) has bagged six effective orders in the second quarter of 2017 totaling in USD 133 million, the company said in a stock exchange filing on Monday.
The six contracts include three 1,800 TEU boxships that were exercised from the existing options, while the remaining three are new shipbuilding contracts for 82,000 DWT bulk carriers.
As the new ships are scheduled to be delivered between 2018 and 2020, therefore they will not have any significant impact on the earnings of the company for the financial year ending 31 December 2017, the filing further reads.
Yangzijiang Shipbuilding said that, year to date, it has secured a total of nineteen shipbuilding contracts with an aggregate value of USD 450 million.
In addition, the existing contracts include nine outstanding options for one 6,500 DWT ConRo Vessel, two 62,000 DWT bulk carriers, three 1,800 TEU containerships and three 29,800 DWT self-unloading vessels to be exercised.
News content and pictures from:worldmaritimenews.com