ABS Assigned RO Status by Canadian DND
Views: 98 Author: UC Marine China Publish Time: 15-03-2019 Origin: www.ucmarine.com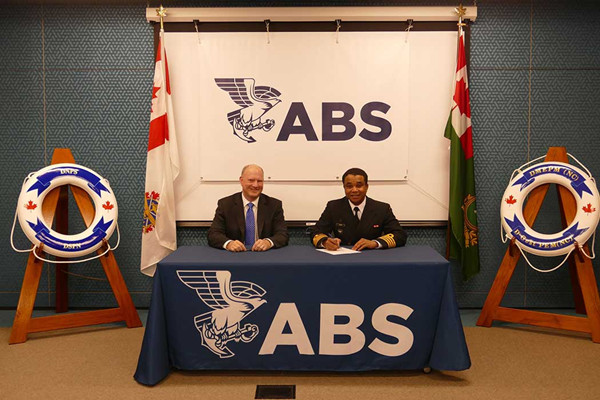 ABS Assigned RO Status by Canadian DND
ABS announced it was assigned Recognized Organization (RO) status by the Canadian Department of National Defence (DND). ABS is now authorized to survey non-combatant vessels and undertake certification activities in key hazard areas identified by the Naval Ship Code.
"ABS was selected as the exclusive classification organization for all non-combatant vessels in service with the Royal Canadian Navy (RCN) in 2017 before expanding our class and certification services to the entire Canadian Coast Guard fleet in 2018—and now we have been assigned RO status by the DND," said James Watson, ABS Senior Vice President, Global Government. "This latest milestone further strengthens our deep relationship with the Canadian Government and we look forward to working together to advance fleet safety and reliability."
ABS will provide classification services for the Kingston-class and the Orca-class ships, the Auxiliary vessels plus the new Arctic and Offshore Patrol Ships and future Joint Support Ships.
UC Marin China can supply ABS certified marine equipment.
Marine Life Saving Equipment: Self-Righting Inflatable Life Raft, Open-Reversible Inflatable Life Raft, Davit-launched Self-righting Inflatable Liferaft, Totally Enclosed Lifeboat and Rescue Boat,FRP Open Type Lifeboat, Marine Life Jacket RSCY-A4, Marine Children Life Jacket, PVC Foam Working Life Jacket, SOLAS Approved Immersion Suit, Survival Suit, Marine Evacuation System, SOLAS Approved Life Buoy, General Type Lifebuoy Light.
Pollution-Prevention Equipment: OCM-15 type 15ppm Bilge Alarm, BilgMon 488 type 15ppm Bilge Alarm, 15ppm Bilge Alarm for Oil Water Separator, Reverse Osmosis Fresh Water Generator, Plate Type Fresh Water Generator, Fuel Oil Sampling Device, Drip Type Bunker Sampler Flange, DNVPS Line Sampler, Oil Only Sorbent Pads, Oil Only Absorbent Pillows, Oil-Only White Sorbent Rolls, Oil Only Polypropylene Absorbent Socks, Chemical Spill Absorbent Pads, Hazmat Chemical Sorbent Rolls, Hazmat Sorbent Polypropylene Socks, Yellow Hazmat Sorbent Pillows, Gray Universal Absorbent Pads, Universal Sorbent Rolls, Gray Polypropylene Sorbent Socks, Gray Universal Absorbent Pillows.
Marine Kitchen Equipment: Marine Large Electromagnetic Cooker, Marine Stainless Steel Electric Rice Steamer, Marine Stainless Steel Electric Griddle, Marine Cooking Range with Oven, Marine Electric Tilting Bratt Pan, Marine Microwave Oven, Marine Dumpling Machine, Marine Steamed Bread Machine, Marine Electric Meat Grinder, Marine Electric Water Boiler, Shipboard Flake-ice Machines, Seawater Flake Ice Machine, Marine Rubbish Press Baling Machine, Marine Life Rubbish Baler Machine.