CMES Cleared to Order 10 Valemaxes
Views: 14 Author: UC Marine Equipment Co., Ltd Publish Time: 19-11-2015 Origin: www.ucmarine.com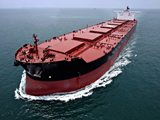 CMES Cleared to Order 10 Valemaxes
Shanghai-listed China Merchants Energy Shipping, a subsidiary of China Merchants Group, has issued a stock filing saying that its board approved a plan to order ten very large ore carriers (VLOC) as part of a charter deal with Brazil's mining giant Vale.
CMES said that two of the 400,000 dwt bulk carriers will be constructed at its affiliate, China Merchants Heavy Industry (Jiangsu) Co, without specifying who will build the remaining eight VLOCs, only saying that it is an unaffiliated, China-based yard.
400,000 dwt bulk carriers equipped with lifeboats, liferafts, life jackets and other high-quality marine equipment.
Back in September, CMES and Vale signed a Contract of Affreightment (COA) for a period of up to 25 years, and in May this year CMES agreed to buy four Valemaxes from Vale for USD 448 million.
CMES' Hong Kong-based subsidiary, China VLOC Company Limited, was set up in early September for the specific purpose of operating the Valemaxes.
News content and pictures from:worldmaritimenews.com