French GTT Wins Tank Design Order of a New LNG Carrier
Views: 51 Author: UC Marine China Publish Time: 27-11-2018 Origin: www.ucmarine.com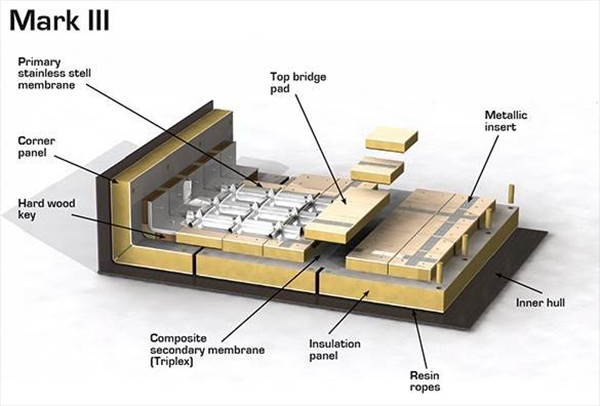 French GTT Wins Tank Design Order of a New LNG Carrier
French specialist in liquified natural gas (LNG) containment systems Gaztransport & Technigaz (GTT) has received a new order notification from a Korean shipyard for the tank design of a new 174,000 m3 LNG carrier (LNGC), to be built on behalf of a European ship-owner.
The vessel's delivery is expected in Q1 2021. The ship-owner's and shipyard's names are confidential.
The LNG tanks of the vessel will be equipped with the proven Mark III Flex containment system developed by GTT.
Last week, GTT received an order from the South Korean shipyard Daewoo Shipbuilding and Marine Engineering (DSME) for the tank design of two new 173,400 m3 LNG carriers (LNGC).
These units will be built on behalf of a European ship-owner. The tanks will be fitted with the NO96 GW technology and the vessels' delivery is expected by end of 2020.
UC Marin China can supply the following equipment for LNG Carrier:
Marine Life Saving Equipment: Self-Righting Inflatable Life Raft, Open-Reversible Inflatable Life Raft, Davit-launched Self-righting Inflatable Liferaft, Totally Enclosed Lifeboat and Rescue Boat, FRP Open Type Lifeboat, Marine Life Jacket RSCY-A4, Marine Children Life Jacket, PVC Foam Working Life Jacket, SOLAS Approved Immersion Suit, Survival Suit, Marine Evacuation System, SOLAS Approved Life Buoy, General Type Lifebuoy Light.
Pollution-Prevention Equipment: OCM-15 type 15ppm Bilge Alarm, BilgMon 488 type 15ppm Bilge Alarm, 15ppm Bilge Alarm for Oil Water Separator, Reverse Osmosis Fresh Water Generator, Plate Type Fresh Water Generator, Fuel Oil Sampling Device, Drip Type Bunker Sampler Flange, DNVPS Line Sampler, Oil Only Sorbent Pads, Oil Only Absorbent Pillows, Oil-Only White Sorbent Rolls, Oil Only Polypropylene Absorbent Socks, Chemical Spill Absorbent Pads, Hazmat Chemical Sorbent Rolls, Hazmat Sorbent Polypropylene Socks, Yellow Hazmat Sorbent Pillows, Gray Universal Absorbent Pads, Universal Sorbent Rolls, Gray Polypropylene Sorbent Socks, Gray Universal Absorbent Pillows.
Marine Kitchen Equipment: Marine Large Electromagnetic Cooker, Marine Stainless Steel Electric Rice Steamer, Marine Stainless Steel Electric Griddle, Marine Cooking Range with Oven, Marine Electric Tilting Bratt Pan, Marine Microwave Oven, Marine Dumpling Machine, Marine Steamed Bread Machine, Marine Electric Meat Grinder, Marine Electric Water Boiler, Shipboard Flake-ice Machines, Seawater Flake Ice Machine, Marine Rubbish Press Baling Machine, Marine Life Rubbish Baler Machine.