Taiwanese Evergreen Is Ordering Ten 2,800 TEU Container Ships
Views: 16 Author: UC Marine China Publish Time: 26-11-2015 Origin: www.ucmarine.com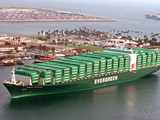 Taiwanese Evergreen Is Ordering Ten 2,800 TEU Container Ships
Taiwanese shipping company Evergreen is ordering ten 2,800 TEU container ships from Japanese shipbuilder Imabari Shipbuilding Co.,Ltd and compatriot CSBC Corporation.
To improve ship maneuverability, the ship in addition to the installation of baker rudder, but also with a bow thruster and fixed pitch propeller, safety equipment includes lifeboats, liferafts and life jackets.
Under the deal, announced by Evergreen in a stock exchange filing, the company will order five container vessels at Imabari, assigning up to USD 195 million for the quintet.
The other five 2,800 TEU will be ordered at CSBC Corporation, according to Evergreen, for USD 36-39 million per vessel, putting the overall deal price at up to USD 390 million.
The company did not disclose any information on potential delivery dates of the ships.
Evergreen's latest ordering spree comes following an agreement with compatriot CSBC Corporation to build ten 2,800 TEU, class B-type feeder ships in August this year.
Evergreen did not reveal the value of the contract, but it is speculated that the price tag for these ten feeders could be around USD 400 million.
News content and pictures from:worldmaritimenews.com