Virginia-Class Submarine Delaware Christened
Views: 49 Author: UC Marine China Publish Time: 22-10-2018 Origin: www.ucmarine.com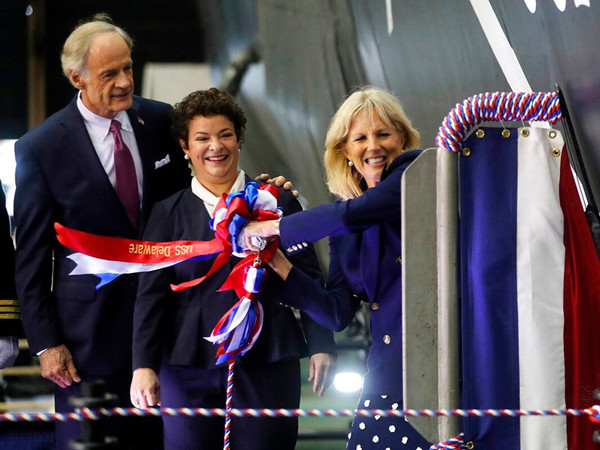 Virginia-Class Submarine Delaware Christened
Huntington Ingalls Industries christened the Virginia-class submarine Delaware (SSN 791) this morning at the company's Newport News Shipbuilding division.
Jill Biden, the former Second Lady of the United States and the ship's sponsor, smashed a bottle of sparkling wine against the hull, celebrating the latest milestone of the newest U.S. Navy vessel prior to its launch.
"I know it is a tremendous privilege to be selected as a pre-commission crew member, and the sailors standing with us today are the very best the Navy has to offer," Biden said. "I am grateful to become part of the USS Delaware family and to be their shipmate for life."
The ceremony took place in Newport News' Module Outfitting Facility and was attended by more than 1,500 guests, including Delaware Gov. John Carney; Sen. Tom Carper, D-Del.; Rep. Bobby Scott, D-Va.; James Geurts, assistant secretary of the Navy for research, acquisition and development; Rear Adm. John Tammen, director of the undersea warfare division at the Office of the Chief of Naval Operations; Vice Adm. Richard P. Snyder, the Navy's inspector general; and Kurt Hesch, chief operating officer of General Dynamics Electric Boat.
In her remarks, Newport News Shipbuilding President Jennifer Boykin recognized the work and craftsmanship of more than 10,000 shipbuilders from Newport News and its partner, Electric Boat. She also acknowledged the support of the supplier base—more than 5,000 companies in 48 states—that provided parts and materials critical to Delaware's successful construction. We can provide lifesaving equipment for Submarine, such as life boats, life rafts, life jackets, etc.
"Like the Virginia-class submarines that precede her," Boykin said, "Delaware embodies American ingenuity and innovation at its finest, thanks to the outstanding skill and craftsmanship of an incredible team."
The submarine is named for the country's first state, following the dreadnought battleship USS Delaware (BB 28) that was delivered by Newport News in 1910.
"She is named for the second smallest state in the country, but her purpose is monumental," Boykin said. "She will serve as an underwater home to her crew of about 135 sailors for months at a time, while also serving on the front lines of our nation's defense. Her strength and her stealth give our country powerful advantage over our adversaries."
Delaware is the 18th Virginia-class submarine and the ninth to be delivered by Newport News. Construction began in September 2013 and is 93 percent complete.
"My crew and I are honored to represent the state of Delaware and the U.S. Navy in this historic event," said Cmdr. Brian P. Hogan, commanding officer of the pre-commissioning unit. "Together with the team at Newport News Shipbuilding, we are one significant step closer to commissioning this fine warship, joining the fleet and defending our nation."
Today's christening was a second such milestone for a Virginia-class submarine. Vermont (SSN 792), the 19th submarine built as part of a teaming agreement with Electric Boat, also was christened today at the company's headquarters in Groton, Connecticut. Delaware is scheduled to be delivered to the U.S. Navy next year.