Containerships Names LNG-Powered Vessels in China Wenchong Shipyard
Views: 68 Author: UC Marine China Publish Time: 08-10-2018 Origin: www.ucmarine.com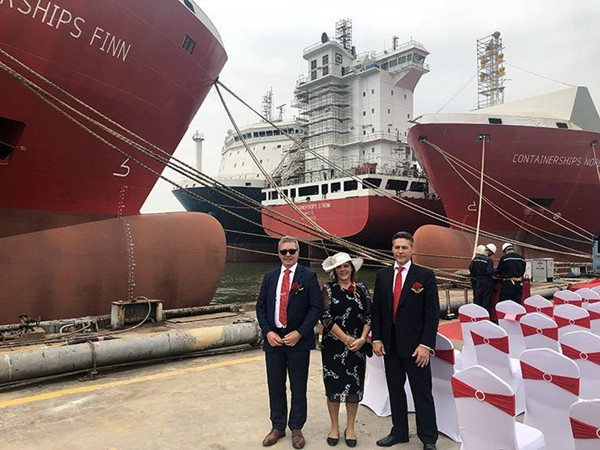 Containerships Names LNG-Powered Vessels in China Wenchong Shipyard
Containerships' third and fourth LNG-powered vessels were christened last week at the Wenchong Shipyard, China. The vessels received names M/S Containerships Finn and M/S Containerships Balt, honouring Containerships' roots and history.
The christening of the last two vessels under construction was yet another milestone in the company's LNG story. The ceremony was attended by Containerships' Board members as well as the CEO Kari-Pekka Laaksonen.
The building of container vessels implemented with LNG technology is a project that requires high levels of expertise in a relatively new field of fuel solutions. The global lack of previous experience makes the project challenging, and Containerships has had to adjust the vessel delivery schedule during the shipbuilding phase.
"Even though we have been forced to reschedule the delivery of the LNG vessels by some months, I am happy to say that no major issues, that would have put the whole project at risk, have appeared. M/S Containerships Nord, our first newbuild, successfully completed the first part of her sea trials in July", states CEO Kari-Pekka Laaksonen.
"Five years ago, we committed to the largest investment in Containerships' history and started to build Europe's first LNG-based supply chain basically from zero. Obviously, as the first logistics company to do this, it has not been easy, but I still believe it is the way to go. The environment needs new solutions, and both the public authorities and our customers demand more ecological transport options."
According to the current delivery schedule, the first two LNG-powered vessels will be delivered to Containerships during 2018 and the last two during January – March 2019. The first vessel, M/S Containerships Nord, is scheduled to start her last sea trials during October. We can provide lifesaving equipment for LNG-powered vessels, such as life boats, life rafts, life jackets, etc.
Additionally, Containerships signed a preliminary agreement for the fifth and sixth LNG-powered vessels during the summer of 2018.