OSC Names New Silver Tankers
Views: 23 Author: UC Marine China Publish Time: 23-11-2015 Origin: www.ucmarine.com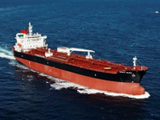 OSC Names New Silver Tankers
Arabian Gulf ship operator Oman Shipping Company (OSC) has named two of its new product and chemical tankers – the Muscat Silver and Rustaq Silver – at the Hyundai Mipo Dockyard in Ulsan, South Korea.
OSC will now take delivery of the Muscat Silver as part of a deal which will see 10 MR tankers delivered to the company over the next year.
"The delivery of the Muscat Silver boosts OSC's fleet to 44 ships," OSC General Manager Wasam Al Najjar said.
"This is just the beginning of our expansion too with the next nine ships due to be delivered within 12 months."
The Muscat Silver and Rustaq Silver are both 183 metres long and 32.2 metres wide, with a draft of 19.1 metres. equipped with high-power bow thruster and external fire fighting system and other high-quality marine equipment.
Each medium range tanker's capacity is 37,900t at the design draft and 49,800t at the scantling draft. They both have a gross tonnage of 29,354t and a net tonnage of 12,195t.
As part of Project Silver, which consists of 50 newbuilds, all the vessels will be chartered to Shell International Trading and Shipping Company Ltd.
Incorporated in 2003, OSC is owned by the Omani Government through the Ministry of Finance, which holds 80 percent of the company, with Oman Oil Company controlling the remaining 20 percent.
Launched with the acquisition of six LNG vessels, OSC has since diversified into the crude oil, chemical, LPG, dry bulk, container and general cargo markets.
News content and pictures from:worldmaritimenews.com