Tsuneishi Shipbuilding Lines Up Eight Aframax Orders
Views: 19 Author: UC Marine China Publish Time: 24-12-2015 Origin: www.ucmarine.com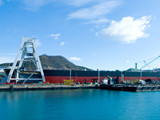 Tsuneishi Shipbuilding Lines Up Eight Aframax Orders
Japanese shipbuilder Tsuneishi Shipbuilding has received an order for up to eight Aframax tankers from its compatriot shipping companies.
Namely, according to data provided by Asiasis, Tsuneishi has been hired by its Kambara Kisen, part of Tsuneishi Holdings Corporation to build up to four tankers.
Under the 2+2 contract, the ships are to be built by Tsuineishi Zhoushan Shipbuilding and feature 115,000 dwt in capacity. tankers are equipped with fresh water generator, liferafts, Lifeboat, propellers and boilers. Each ship is priced at USD 50 million. Two units are to be delivered in 2019, whereas the other two should join Kambara's fleet in 2020.
The order for additional four units has been placed by Meiji Shipping. The company has ordered three firm 115,000 dwt tankers with an option for an additional one. The firm trio is set to be delivered in 2019, whereas the remaining tanker would join Meji Shipping in 2020.
The entire order has an estimated price of a total of USD 400 million.
News content and pictures from:worldmaritimenews.com